So I wanted to talk a little bit about a new item on the harp market that was brought to my attention by a Venus harp technitian. Apparently there have been a few scares in the last couple of years about using cow gut strings because of the random outbreaks of bovine spongiform encephalopathy or better known as "mad cow disease." Yes, apparently this is still an issue in some parts of the world and a representative of Bow Brands strings claimed it should be a serious consideration when purchasing your gut strings. While this won't deter the majority of us from purchasing our beloved bow brand and burgandy gut strings it is worth noting that there is an alternative. Venus is now endorseing a brand of strings that using sheep gut instead of cow. This brand is known as "sterling strings" and is sold largely on Venus' sister website valkyriecordes.com. It is worth noting, however, that when I tried to look at the strings on this website it seemed like there was a page error, or perhaps they haven't updated in a while. Either way Sterling Strings might be something to look into, especially if you are a concerned teacher or parent. There has not been any known cases of contracting mad cow disease from gut strings, but then do you want to take the chance? The choice is yours, it's just nice to know there is a good and safe alternative.
Well, Hello fellow harpists and Merry (almost) Christmas. It's been a long time since I did a harp forum, and I'm really excited about the topic of this one, Harpcicles. Now I know what you're probably thinking. "Those small candy-colored cheap toys that look like harps for kids?" Yep! Those are exactly what I'm talking about. In case you've never had the opportunity to look at them for yourself, check out their website at http://harpsicle-harps.com/
Now, before I go any further about reviewing these neon triangles with strings let me just say that up until the last year I considered these harps to be a complete joke, and totally unfit for a serious harp student. If you read my other review on the rosewood harps you will know my disdain for cheaply made small harps that are more suited as a souvenir than to actually play on. After trashing the rosewood harp I began frantically searching for a better alternative for an affordable beginner harp. Over and over and over again I kept hearing about harpcicles. At first I laughed at those claiming they were well built but as time went on I became more an more curious. When I finally decided to check them out for myself I discovered that Sylvia Woods not only endorses the harpsicle brand, but also sells harpcicles on her website. "If someone so prominently known in the harp world endorses these harps," I thought. "Surely they can't be complete crap." Not knowing anyone in the area who owns one, I took a huge leap of faith and ordered a "fullsicle" which has a full set of levers in a maple stain. (The neon colors were a little much!)
One thing I like about the harpcicle company is that it is owned and ran by Rees Harps Inc and each harp takes six to eight weeks to create for each individual order. When my harp finally arrived I tuned it and put it to the test. Right away I was struck by the sound! Not exactly a Lyon and Healy Troubadour but it's nearly a third the size! Take a listen for yourself.
http://www.harpcenter.com/product/harpsicle-harps/harpsicle-harp-company
Not only was I impressed with the sound but the craftsmanship was nothing to scoff at. The strings are adjusted with medium tension which is great for folk harpists, as well as concert harpists. Each string is evenly spaced and the tension is distributed evenly so that practice is effective to transfer on other harps, and figure strength is evenly built. The levers are strong and WORK! Finally levers that actually work! The best part about my purchase was the price. With a few custom add-ins and premium strings and wood stain it still cost me less than $1000 total. Crazy right?! I love these harps, and whenever I have a family with a beginning harpist that just can't afford a large purchase I immediately recommend that they order a harpsicle.
The prices of harpsicles range anywhere from $400 for a harp with no levers to $1000 for a Fullcicle with a full lever set. They also have a wide variety of color choices to choose from (if you're into that thing). I always recommend my student to buy the metal leg stand to go with it or at the very least the lap bar for starters, which makes it easy to hold and play.
Now that I've said all the good things about harpcicles, there are a few downsides I should discuss.
1. Tuning pins on the wrong side?
Yep, The tuning pins are on the side of the harp with the strings. this isn't a huge ordeal as long as you teach your student to do it properly on other harps. Of course having the pins on the opposite side means you have to turn the pin backwards to tighten and forwards to loosen. This can be a little confusing but easily dealt with with some guidance.
2. Sleepy Harp
They can't stand up by themselves, which means if you aren't playing them then you have to lay them down flat. This is somewhat annoying, but you can purchase a nice harp stand on the harpsicle website to remedy the problem.
3. Non-universal tuning fork
Do not, I repeat, DO NOT LOSE THE TUNING FORK THAT COMES WITH IT! because of the usual design with the pins in the front, a standard tuning fork will not work on harpcicles.
4. Small
The harpcicle only has 26 strings which is just barely enough to make it through the first couple years of harp practice. If your student is serious with continuing harp studies, they will need a bigger harp after 2 or 3 years.
Despite these few setbacks I still seriously endorse these harps. They are well built, versatile, and best of all affordable!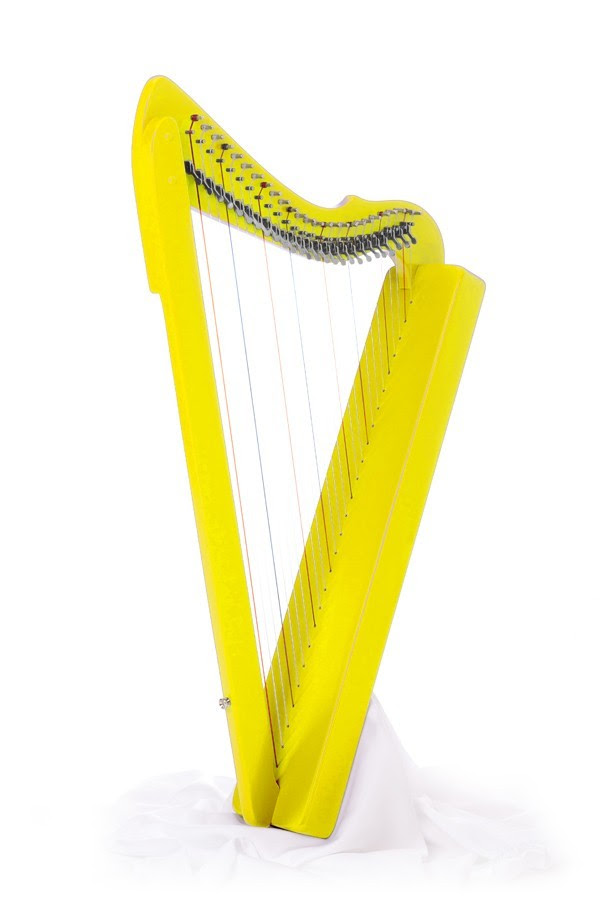 Image from: http://harpsicle-harps.com/harps/11-fullsicle-harp.html